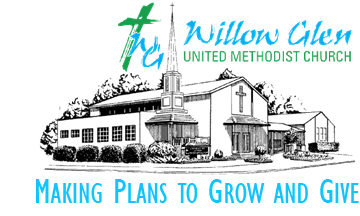 During stewardship season (or anytime), we hope you will "make a plan to give" and make a pledge to the church this year. If you already make a regular offering, we invite you to consider making a plan to grow in your giving. It doesn't have to be 10% each year, but make a plan that feels right to you, and give thanks for all you have and all that you have to give. The ministry of this congregation is funded by your generosity, and we have ministry to do here in Willow Glen as God's family growing through caring, sharing and serving. May we grow into it together.
GIVE THROUGH OUR ONLINE GIVING SYSTEM



Send a text
Willow Glen UMC now has the ability to accept donations by text. To do this, send a text message to 408-478-9671 with the amount you would like to contribute. Make sure to include the dollar sign before the amount (example: $20). Within a few minutes, you'll be sent a text with a link to register. Click on the link and enter your cardholder name and credit card information. Once your registration is complete, you will receive a text verification and a receipt via email. For future giving, simply send a text with the amount you wish to give, and it will process automatically. Contact Ingrid Quigley, eGiving coordinator, for details.
Shop at Amazon
Shop on Amazon the same way you shop now through AmazonSmile and a portion of your purchase goes to WGUMC at no cost to you. you'll find the exact same low prices, vast selection and convenient shopping experience as Amazon.com, with the added bonus that Amazon will donate a portion of the purchase price to WGUMC. No hassle, same Amazon, free money for WGUMC, no cost to you. Click here to learn more.
Shop other places online
Before you shop online, think of WGUMC. When you shop at your favorite online retailers like Best Buy, 800 Flowers, Expedia and hundreds more, percentage of every dollar you spend is contributed by those stores to WGUMC at no cost to you. Sign up at www.umcmarket.org. This is a no-brainer for all of our online shopping members. Click here to get the details.
Donate your car
When it's time to get rid of your car, whatever shape it's in, use DonatingIsEasy.com to make getting rid of your car super simple, and donate the proceeds to WGUMC. A couple of our church members have used this already and loved it. They handle everything, all you have to do is register at their website and they call you to set it up -- even if your car isn't running they tow it. It's an easy way to transition out of your old car and benefit WGUMC. Click here to learn more.